Small and compact is beautiful too!
The shading industry (ourselves included) often showcases how large we can produce roller blinds as well as the shapes and angles we can cover. However, what's often missed is the small stuff - those tiny apertures where shading is required for privacy, preservation and/or light control.
So we thought in this blog, we'd take a snapshot of some of the more compact blinds that SHY has completed to demonstrate that small shading can be both beautiful and practical too.
Privacy
Freedom on the open waves is the beauty of super yachts but when they're in harbour their occupants want to retain their privacy. However, their design often means they have unusually sized or shaped windows and portholes! SHY can make electric blinds from just 480mm wide with a 150mm drop.
The SHY ZIP® roller blinds have added privacy too as the guides trap the shading cloth in the side channels to minimise light ingress and prevent any gaps between the shade and the window's edge. Privacy from noise is also increased as when fully lowered, the air trapped between the glazing and fabric helps to reduce noise in a similar way to double glazing.
Privacy isn't restricted to just a life at sea, there are many other situations where it is also important. A recent project for a courtroom needed very narrow shading for long windows that are behind the bench. With the smallest width measuring in at just 515mm whilst their drops were all 6000mm-6800mm, SHY ZIP® roller blinds were used to maintain privacy, light and temperature. They were all hard-wired with super short, mains-powered motors.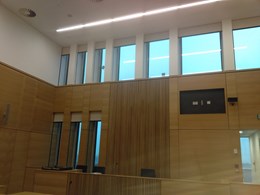 Case study coming soon
Preservation
Evacuees and children in Sevenoaks created a unique tapestry during WWII. Now housed at the library, its curators wanted it to be displayed but knew it needed protection from both sunlight and internal lighting.
Although the roller blind is 5340mm long, its drop is just 500mm. Blackout cloth was printed with a life-size replica of the tapestry then mounted onto a wide electric roller. The motorised SHY ZIP® system was linked to a timer so that the shading smoothly raises at the touch of a button and lowers again after a short period of time to preserve the tapestry.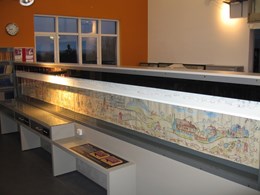 Light Control
Natural daylight is essential for health and wellbeing, but depending on the window's aspect and time of year, it needs to be possible to control the light for the comfort of a building's occupants. Even ultra narrow windows are possible for SHY – and these often defy typical industry limits.
When Oxford High School for Girls needed shading for their hall, we supplied them with manual roller blinds that were just 395mm wide. With a drop of almost 1:14 (5500mm), the SHY ZIP® system was used with a large diameter roller tube so the fabric always runs square to the barrel.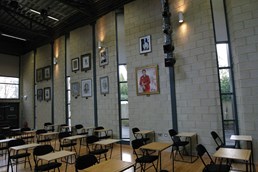 How does SHY make them so small?
The reason we can make roller blinds to such small proportions is that we design and manufacture all our shading solutions in-house at our specialist site in Letchworth, UK. Our experienced team have an extensive range of materials and standard systems that boast 5 headbox sizes, 8 roller barrel diameters and six operating methods. Where something unique and bespoke is needed, we work with the client to develop this to exacting standards.