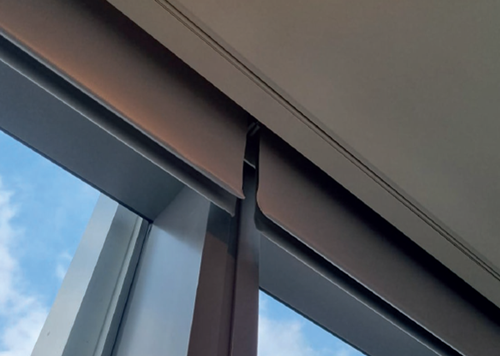 EBRD UK Headquarters: A Success Story of Sustainability and Innovation in Office Design
The European Bank for Reconstruction and Development (EBRD) has recently opened its new UK headquarters located in the heart of Canary Wharf.
The Challenge
The unique angled windows on the building's exterior presented Waverley with a challenge. To meet the needs of this modern and sustainable office environment, a partnership with SHY would provide a shading solution that would meet the building's specific requirements.
The Solution
With the use of SHY's Obscura® roller blinds, the solution was successfully implemented. The ZIP® system incorporates a zipper ribbon that is welded to the edges of the blind fabric, providing a super-strong and energy-efficient join.
In total, 239 manual single blinds and 56 motorised dual blinds were installed on the building's sloped elevations. The fully cassetted system provides additional insulation and saves energy, as stated by the Chartered Institute of Building Services Engineers (CIBSE).
Richard Steel, Shading Consultant at SHY, says "We are honoured to have worked with Waverley on this prestigious project and to have contributed to the creation of a world-class building that supports the new ways of hybrid working. "Our team worked with Waverley to overcome the challenges of delivering a shading solution that far surpasses what is demanded by most modern office buildings."
Project Manager, Lloyd Palmer at Waverley commented: "It was a pleasure to work with Richard and the rest of the Shy team on EBRD's new London headquarters. "Though it was a challenging project, we're incredibly proud to have been a part of it and are very happy with the finished product."
If you're interested in learning more or need assistance with your own design, contact SHY today.
Project: EBRD UK Headquarters
Delivery Partner: Waverley
Product: Obscura®
Location: Canary Wharf, London, UK