Shading increases wellbeing, saves money and is sustainable.
The earth's climate is changing, extreme heatwaves and heat-related deaths are increasing. Efficient solar shading is proven to prevent homes and workplaces from over-heating. Adjustable shading also allows us to manage our access to daylight, which makes us happy and helps us to focus and function without unbearable light glare.
By cooling a room with solar shading the demand for air conditioning is significantly reduced, this delivers both economic and environmental benefits. Less artificial air cooling and lighting will reduce energy costs and air conditioning is a proven contributor to CO2 emissions and increased greenhouse gases.
Dynamic, or "smart" solar shading integrates into a building control system and can intelligently manage heat and light for the highest levels of energy efficiency.
What should you do next as part of Global Shading Day?
Global Shading Day is the time to consider our solar shading solutions. Are they creating comfortable living spaces, are they helping the environment and are they saving money?
By contacting a solar shading expert more homes and workplaces could be fitted with shading systems that will benefit the occupants, owners and ultimately also the planet.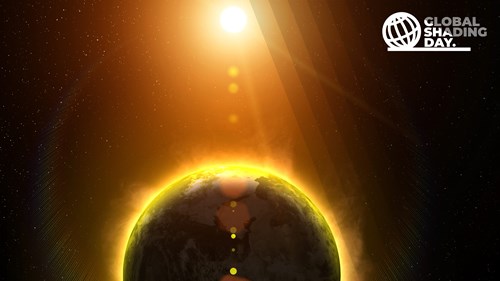 About ES-SO – www.es-so.com
​ES-SO is a non-profit organisation under Belgian law that aims to promote the positive impact of solar shading on indoor climate management, thereby supporting the EU's ambitious energy-efficiency goals.   ES-SO is the European umbrella organisation of professional solar shading organisations. Across  Europe  the solar shading industry employs over 450,000 people and generates annual sales in excess of €22 billion. ES-SO is based in Brussels, the ideal location to guarantee that the voice of the industry is heard and that it can make a positive contribution to the European energy targets. ES-SO is also actively involved in a number of European projects in both a contributing and advisory role.